Tale as Old as Time
A couple of years ago I discovered Rupi Kaur via Instagram (which is how you discover anyone who is anyone these days, apparently). For those of you who don't know, Rupi Kaur is a top ten Sunday Times-bestselling author and illustrator of two collections of poetry. Born in Punjab, she emigrated to Canada with her family when she was four years old. In her work, Kaur explores femininity, sexuality, culture and the tale as old as time: love.
I am an Indian girl who has been brought up in a predominately white, middle class, Tory-dominated town and to top it all off, I was one of about 3 brown people in my year group at school. Often, I've tried to 'dampen down' my brownness. I've noticed it more as I've gotten older. Examples? Well to name a few…
Saying 'Grandma' instead of 'Nanny', and 'Grandad' instead of 'Nanna'.  

Brushing it off when people ask why that red thread is on my wrist.

Laughing along when people comment on my spice tolerance. I've eaten chillies since I was a bubba so yes, I've become accustomed to them and no, it's not all that surprising. What's the big deal…?!

Joining in when people take the piss out of Bollywood films. (In reality, they're bloody fantastic; the industry was around way before Hollywood, they produce over 1000 films a year and the dreamy Shah Rukh Khan is one of the most famous actors in the world: all in all, that's pretty impressive.)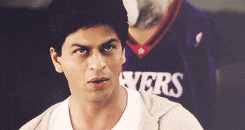 Anyway, the reason I'm talking about this is because I recently realised that as I was growing up, there were no women of Indian descent who were in the public eye that I looked up to. There was no one who made me especially proud to be brown, and few who made me proud to be a woman. Now I'm not saying that you need someone else to honour your heritage and gender to make it ok for you to do so. It's more that when you're a teenager, you don't really know what's going on around you and everything is a little confusing. It would've been nice to have someone to say "Wake up and smell the chai masala – do you realise how amazing it is that as an Indian woman with an education you have so many opportunities laid out before you, that your ancestors probably couldn't have even dreamt of?!" It's not that there weren't women out there celebrating these sorts of things whilst I was at school, I feel that it's more that they struggled to have their voices heard… another tale as old as time.
The Poetry
When I stumbled across Kaur's poetry that celebrated my skin colour, praised my culture and shouted loud and proud about being a young woman in today's society, it was like a rebirth of understanding, gratification and acceptance.
'Kaur is at the forefront of a poetry renaissance' Observer
She is one of the first women who I have been exposed to who speaks about sex in a manner that is not full of shame. Generally, this is taboo, especially when you're from an Asian background, alongside mental health and creativity (in other words, if you're not doing medicine or law and you have no plans to do a masters…what are you going to do with your life?!) Anyway, Kaur holds two fingers up to this, and it's unbelievably refreshing!
Her first book, 'Milk and Honey', is about survival. More specifically it discusses the experience of violence, love and loss. Her second one, 'The Sun and her Flowers' is a journey of wilting, falling, rooting, rising and blooming; it celebrates love in all its many forms. Kaur articulates herself beautifully through these collections of poems, and she takes the reader on an enlightening and empowering journey of self-discovery. Her work tackles honest, real and heart-wrenching struggles which are oh-so strikingly relatable, making her the voice of silent souls. Oh and don't worry, you don't have to be brown or a woman to appreciate her work.  
The Live Event
A couple of weeks ago, I attended one of Kaur's performances. She's been travelling the world sharing her work with others and had just wrapped up her India Tour before heading over to the UK. You can definitely tell that I've not been to a poetry reading before; if you weren't aware either, you're meant to snap your fingers as opposed to clapping when you hear something you like. There was a wave of delicate clicking throughout pretty much the whole of Kaur's performance… pretty magical if you ask me.  
Kaur selected poems from both of her books before opening it up to the floor for any requests. She read with effortless confidence, swirling her arms with such grace that you could see the audience's eyes glaze over, mesmerised by her warmth. Kaur didn't just read her poems, she performed them, and it was completely immersive. In between the readings, she chatted quite openly with the audience. It's easy to forget that the figures behind glossy Instagram accounts are in fact real people; hearing her stories and short anecdotes made her poems even more relatable. Also, if anyone is curious, she's bloomin' hilarious and if the Netflix CEO is reading this, I advise strongly that you give her her own show.
It was one of those events that leaves you feeling completely in awe. It's like when you finish a book and you sit there for a few minutes after reading the last sentence, pondering life thinking "woah". I left that room not only feeling "woah", but also proud to be a woman, and so grateful to have skin the colour of Earth.
Check out Rupi Kaur's (highly aesthetically pleasing) Instagram for more poems.